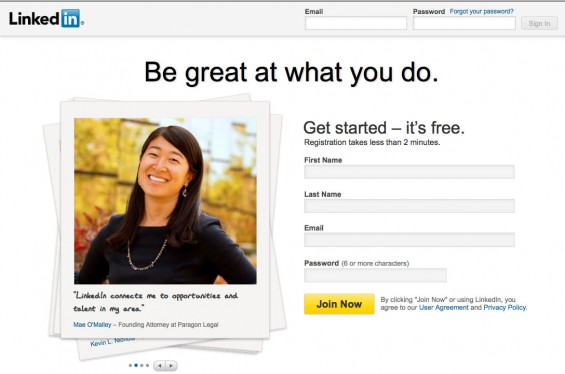 Part 2 in the Getting Started with Social Media series
If you want to create an online presence for yourself in a community of business professionals, LinkedIn is a great place to start. Setting up a LinkedIn profile takes just minutes and is a great way to connect with other people with similar business interests.
LinkedIn is a social networking site mainly for business professionals around the world.
Here's all you need to do to use LinkedIn:
1. Open a free LinkedIn Account. First, go to linkedin.com and click on "Join today" Enter your name, e-mail, password, country, postal code, and current job information (if any), and click "Join LinkedIn."
2. Complete your profile. Think of your profile as your online resumé. You should add a photo, information about your previous jobs, your education, and any information you'd like to share about your expertise, your interests, your contact information, and more. There are fields for each of these on the Edit Profile screen. Just complete as much as you want. The more you fill in, the more likely you are to make connections with people.
You're done! You can stop here if you want to. Just add new information to your LinkedIn profile as it changes.
Getting social with LinkedIn
Now, if you want to get more "social" with LinkedIn, you can add connections, join groups, get recommendations, and participate in LinkedIn discussions.
Here are the easiest ways to connect with your colleagues:
1. Add connections. You can import your e-mail addresses into LinkedIn and then decide which of your friends and colleagues you would like to invite to connect with you. You can also invite them one by one in the Contacts->Invite Contacts section of your page. Make sure the connections you make on LinkedIn are quality connections, those with whom you have a professional relationship.
2. Join groups. LinkedIn Groups are communities who share a common experience, passion, interest, affiliation or goal. Click on Groups-> Find a group to search for groups that interest you. You might want to start with your high school or college, any professional organizations you belong to, or just search for terms that interest you. It's easy to remove groups you don't want to belong to anymore.
3. Get recommended. LinkedIn users with recommendations are three times as likely to get inquiries through LinkedIn searches. Ask your colleagues to recommend you through LinkedIn. It only takes a minute and it makes a big difference to viewers of your profile.
4. Participate in online discussions. You can choose to see updates from your network and all the groups you belong to on your LinkedIn home page and/or via e-mail. Read the questions and comments people are posting and see if you can add to the conversation. When you feel comfortable, post your own questions or interesting articles for discussion. It's a great way to connect with members of your business community worldwide.
5. Add applications. LinkedIn has a whole suite of applications you can use to add more to your profile. Display the most recent posts on your blog, include your Twitter updates, add a slide show, share travel plans, and more. It's a great way to flesh out your profile to really give people an idea of who you are.
Your LinkedIn profile, when complete, becomes a great online repository of information about you, your career, and your business interests. It can help you connect with others in your field, get that great new job you're looking for, and help people find you online.