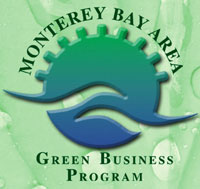 Scott Design is proud to have received certification as a Monterey Bay Area Green Business for taking steps to ensure that our business operates in an environmentally friendly manner.
We have adopted policies to ensure that we:
Reduce, reuse, recycle

Reduce toxics

Purchase environmentally responsible products

Conserve resources

E

ducate our employees and clients about sustainability
Scott Design Inc. is committed to creating a positive environmental and social impact by incorporating sustainable design practices into all of our work. We work with our clients to ensure that projects are environmentally and socially responsible, as well as profitable. We hope to help advance the understanding of sustainability issues, and we ask all of our employees to engage in conversation with every client and co-vendor about integrating sustainable alternatives in their work.
The Monterey Bay Area Green Business Program is a successful partnership of environmental agencies, utilities, and nonprofit organizations that assist, recognize, and promote businesses and government agencies that volunteer to operate in a more environmentally responsible way. To be certified "green," participants must be in compliance with all regulations and meet program standards for conserving resources, preventing pollution, and minimizing waste. The program offers motivated businesses and agencies an easy-to-use framework for improving environmental performance. For more information, visit the Monterey Bay Area Green Business Program website. Scott Design and 37 other Santa Cruz businesses were recognized by the Santa Cruz County Supervisors for going green.
Scott Design is also a member of The Designers Accord and Design Can Change, both dedicated to helping designers promote sustainability practices. You can read more about our environmental commitment and Scott Design's Designers Accord membership.