October 23rd, 2008
7 ways companies can use social media to grow business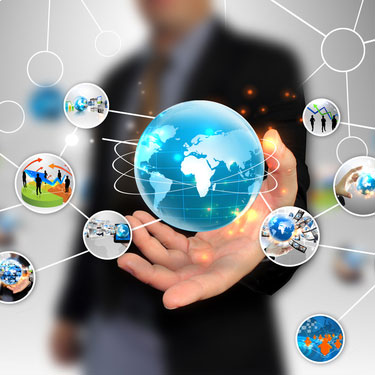 As more and more people join online communities, the questions increasingly come up: I'm here … now what? Keeping in contact with colleagues and friends is a great use for social media, but how can companies create a social media strategy to take advantage of online communities?
Staking out your place online with a LinkedIn page is a great way to start, but to truly get the most out of a social media strategy, you should create content, keep up conversations, and get your whole company involved. Doing so will help customers learn about your company's solutions and let you learn more about your customers.
Number 1: Help people find you and your company.
LinkedIn profiles receive a high page rank in Google search results, so you should make sure you have a LinkedIn page for yourself and a LinkedIn page for your company. Complete all the information in your profile, including your website, blog, and other online communities, and set your public profile to "Full View." Make sure all the employees in your company also have LinkedIn profiles. They should complete all the information in their profiles and make them public, and make sure they link to your company website and LinkedIn Company page. Once you have completed your LinkedIn pages, you may want to consider creating pages on Facebook and MySpace to increase your online visibility. Whatever you do, be sure to Google your name and company name and make sure the information you find is correct, relevant, and presents you the way you wish to be seen.
Number 2: Promote yourself.
Include enough information about yourself and your company online so people know what you do and that you do it well. Once your online information is complete, invite others to be in your network. If you create a Facebook Company page, invite contacts to become fans of your page so they are notified when you update your page. Keep your Facebook company page updated, adding news and recent work on the Wall. Update your profile on your LinkedIn page and email your network about recent company successes to help to keep your company in the public's eye. Include information in the "Honors and Awards" section, and include a message about current news in your "What are you working on?" section.
Number 3: Start a conversation.
Open up a dialogue between yourself and your peers, or yourself and your customers, by starting your own blog. On your blog, you can create a survey, ask for new product ideas, and create a forum for feedback from customers. Write about subjects your customers are interested in, including tips and information to help customers in their lives and businesses. If you're not ready to create your own blog, comment on other blogs related to your industry when you have something to add, and always be sure to sign with your name and URL. A quick way to get started with blogging without a big investment in time and technology is microblogging on a network such as Twitter, where you can send out quick updates on what you're working on, recent successes, and other news.
Number 4: Join the group.
Look on LinkedIn Groups, Google Groups, or Yahoo Groups for groups that are related to the product or service you offer. Be sure to pick your social communities wisely or you'll be wasting your time … and theirs. And, once in the group, participate to share your knowledge and expertise with your potential customers. If you don't find a group, start your own. Decide wether you have the time to contribute enough content to get the group started, and then keep involved to make sure your group members are building their community.
Number 5: Share your expertise.
You and your employees should join in on discussions, Q&A forums, wikis, and blogs when you have valuable information to share with your online communities. If you want to say something that's difficult to communicate through words only, consider posting a "how-to" or demonstration video on YouTube. Giving away your knowledge can build your reputation as a respected authority.  Don't be afraid to disagree with the crowd—having strong evidence to support a contradictory position can start great new discussions. Be fair and honest and you'll become trusted advisors to those in your network.
Number 6: Be consistent and comprehensive.
Make sure your content appears consistently across all the media your company uses to communicate. Don't count on people getting information from only one source; use your corporate website, social networking sites, advertising, eNewsletters, white papers, blogs, podcasts, viral marketing, new media advertising, microblogging, and other Web 2.0 technologies to spread a consistent message.
Number 7: Create your own online community.
The best way to hear from your customers is to give them a way to speak directly to you. You can create your own customer community, branded with your identity. In order for your community to work, you need a lot of members, so this strategy may not work for companies with a smaller audience. (Think: party in a big ballroom where only 10 people show up.) But, having your own customer community can lower your costs to market and sell your products and services, and create an increase in your brand loyalty, as participants interact with one another and your company. Don't be afraid of negative comments—unless you choose to ignore them. Be sure you listen to what your customers say, respond to their concerns, and incorporate their feedback into future endeavors.
As you increase your company's involvement in online communities, through robust social network content and participation in online communities, you will build your company's visibility in your industry and bring your company and your customers closer. Keeping yourself and your company active online will forge lasting relationships that will help solidify your reputation and build your business.
P.S. Check out "Getting started with Twitter," "Getting Started with Facebook," and "Getting started with LinkedIn" if you need help opening and personalizing your accounts.
Author: Kirsti Scott