Tips from The McKinsey Quarterly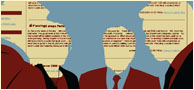 The McKinsey Quarterly published a great article about the challenges faced by companies trying to incorporate Web 2.0 technologies into their workflows. "Web 2.0" is a term used to loosely describe technologies that make online activities richer and more interactive, including wikis, forums, social networking, blogs, and more. As acceptance of Web 2.0 technologies in business grows, company leaders must work to encourage the implementation of these tools in their businesses.
There are six critical factors that determine whether the company will have success in implementing these technologies:
1. The transformation to a bottom-up culture needs help from the top.
Successful participation requires that senior executives become leaders in adoption of the technologies.
2. The best uses come from users—but they require help to scale.
Organizations should not try to dictate how the technologies are used—but observe what works and then encourage those that are most successful.
3. What's in the workflow is what gets used.
Participatory technologies have the highest chance of success when incorporated into a user's daily workflow.The technologies must enhance the way employees already do their jobs, not just add more work.
4. Appeal to the participants' egos and needs—not just their wallets.
Companies should emphasize how participation improves the reputations of participants in their communities, reward enthusiasm, and acknowledge the quality and usefulness of contributions.
5. The right solution comes from the right participants.
Select key users who will help drive your efforts by targeting enthusiastic early technology adopters who have rich personal networks.
6. Balance the top-down and self-management of risk.
Management should ensure that there is adequate control over content without stifling authentic conversations among participants.