Twitter is an important part of a modern marketing strategy, and a part of everyday business for many companies. Although some organizations are hesitant to start using Twitter, it's not difficult to create a Twitter presence, and it doesn't cost anything besides a little bit of your time. The time you invest will be well spent, as Twitter is a very easy way to reach out to your customers and peers online.
Twitter is an online "microblog" where you can write quick 140-character posts that are shared with everyone on Twitter. Twitter is a great way for businesses to share links, news, and events with customers and peers. You can subscribe to the Twitter postings, or "tweets," of other people by "following" them, and others can "follow" your tweets. When you go to your Twitter page, you see a page filled with the tweets of all the people you follow.
Twitter Personal Profile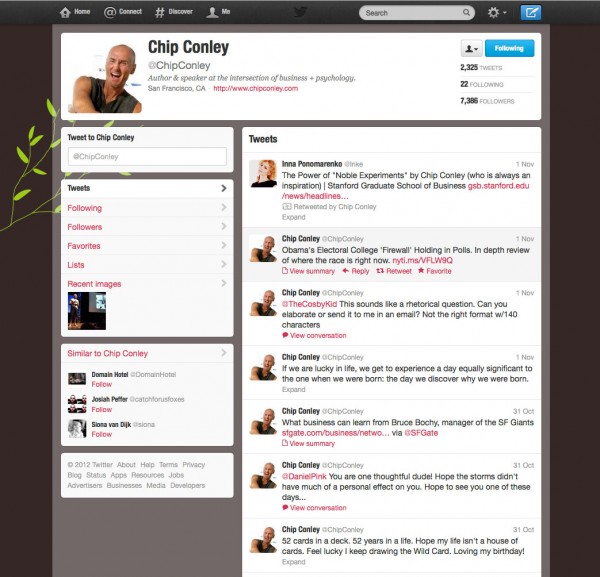 It's very easy to get started with Twitter. There is only one type of page, a
Twitter Profile
page. You should create separate profiles for yourself and for your company. A Profile contains simple information about you or your company: name, your location, a link to a website, a brief bio, information about the people you or your company are following on Twitter, and who's following you. And, once you start tweeting, your profile contains all the tweets you've posted so far.
Start by finding and following influential people in your industry, organizations, and groups where your customers are involved. You can see who others follow and see who's following them, and follow those people, too. When you first get started, spend more time listening than speaking, getting a feel for the types of information people share on Twitter.
When you decide to start tweeting, your tweets can be about subjects that interest you and your peers, or your customers. Try to share information that you find on websites that feature your industry or subjects of interest to your customers. Share information about what you are interested in so that others with similar interests can connect with you. Be sure to limit sales or promotional messages about your company or products to less than 10% of your tweets. No one wants to follow an infomercial.
When you read a tweet that interests you, comment on it, or share something more, to engage in online Twitter conversations. When someone asks a question and you know the answer, feel free to reply to them. The more you help others, the more people will be interested in following you on Twitter.
Twitter Business Profile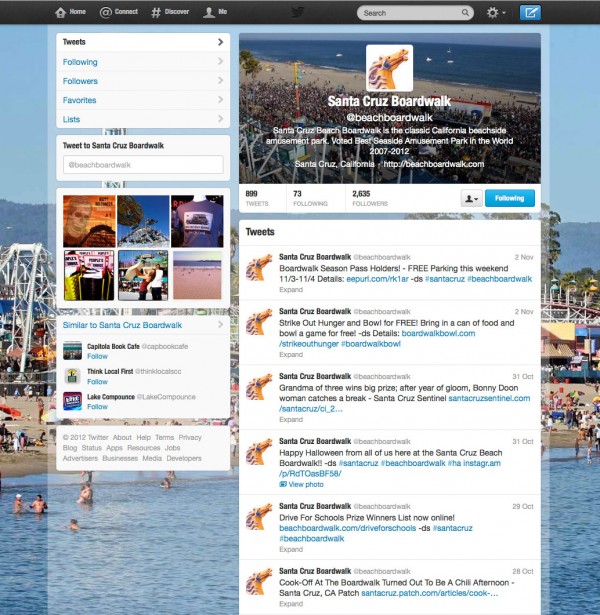 Through your company Twitter account, you can connect with your customers by posting tweets that interest your audience and reading and responding to your customers' tweets. Use Twitter to announce new products and services, share news about current promotions, link to interesting articles you're reading, let people know about interesting posts on your blog, and join in conversations with others. Encourage customers to share feedback on your products and services, ask questions, and share their own tips. You can also create Twitter surveys to get direct feedback from your customers.
Organizations and individuals use Twitter for as many unique ways as there are unique individuals. Charitable organizations have used Twitter to raise money through direct appeals and Twitter events, celebrities keep fans up-to-date on upcoming appearances, artists show off their latest works, restaurants highlight the day's specials, hotels share information on local events, and news organizations break the news on Twitter. The key is to provide information on your Twitter profile that is helpful and interesting to others.
And, all it takes is being able to type 140 characters!
For step-by-step instructions on setting up your account, see Getting Started with Twitter.
For information about other social media sites your company should be using, read Social Media Quickstart Guide — 6 Tools You Need.
Journalist Karen Kefauver wrote a very comprehensive article about Twitter called, "How to Use Twitter – Part 1: Tips on How Tweeting on this Social Network and Microblogging Service Can Promote Your Business." It's got a great list of ideas on how to use Twitter for your business, as well as links to a complete collection of resources to make using Twitter a lot easier. Check it out when you have a chance!