Your goal with your mobile website is to create a peak user experience to your mobile base — getting them the information they need quickly and easily.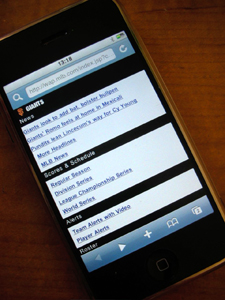 Mobile Web Secrets of the Stars, Part 3 of a three-part series
If you do decide to create a mobile-only version of your website, here are a few things you'll need to do:
Select a URL for the mobile site
There are four generally accepted conventions for the name of the mobile version of your site:

Get a top-level domain, unique from your current domain name, e.g., www.yoursite-mobile.com or www.m-yoursite.com or www.yoursite-togo.com
Create a custom subdomain to your current domain, e.g., www.mobile.yoursite.com or www.m.yoursite.com
Add a folder to your current domain, e.g., www.yoursite.com/mobile (this is the easiest option)
Get a .mobi top-level domain, e.g., www.yoursite.mobi

Include only the most relevant information on your mobile-only site.
A mobile version should include a subset of the information from your site. Include small bits of information that users can read in a short amount of time, e.g., while on a bus, in a taxi, or waiting for an appointment. You can include links to longer documents and large images on your regular site, but don't include them on the mobile version.
Create a way to get to the mobile version, and a way to get back
Some visitors don't like being served up a "stripped-down" version of your site and would rather have access to all the information contained in your real site. Detect whether someone's visiting your site from a handheld device and redirect them to your mobile version. Once there, provide a clearly visible link to view the regular site in case someone wants more information than you provide on your mobile site.
Keep the navigation and page structure simple
Include only the navigation items that mobile users are likely to want, and keep it all in one column. You might want to have links to all information on the mobile site available on the home page so users don't have to click deeply into your site. If you've kept the content on the mobile version streamlined, this list of navigation choices shouldn't be unreasonably long.
Once you've created your mobile-only version of your site, be sure to test it on as many handhelds as you can. If you've done your job correctly, you'll have created a site with a nice balance of functionality and content optimized for your mobile users.