Our client's story
The Santa Clara County Farm Bureau, Santa Cruz County Farm Bureau, and Agri-Culture organizations' websites are all managed by a single team. But the websites were all developed years ago by different designers, which means they all looked different, acted different, and required different tools to manage and update them. The Farm Bureaus contacted Scott Design to come up with a single design that could be customized to work with these different organizations.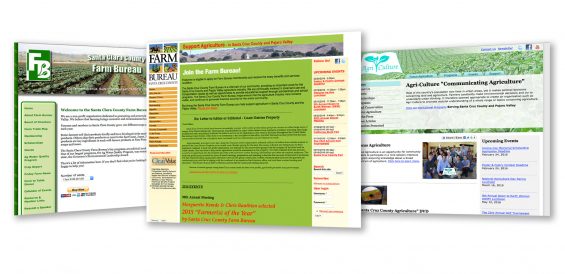 Scott Design began with the extensive content contained on all of the websites. The team at Scott Design figured out which items were common between the sites, identified those that were unique to each site, and then developed a structure that would work on all them.
Scott Design then developed three separate responsive WordPress websites for the three agricultural organizations. Each has a unique design and color scheme, appropriate imagery, and slight differences in the site architecture and content. But, the websites have a common editing interface, consistent architecture, and short codes that are the same on all three, which makes it easy for the team to update each of the sites as needed.
Of course, the sites are all optimized for desktop and mobile use, and the pages were all developed with responsiveness, performance, and SEO in mind.