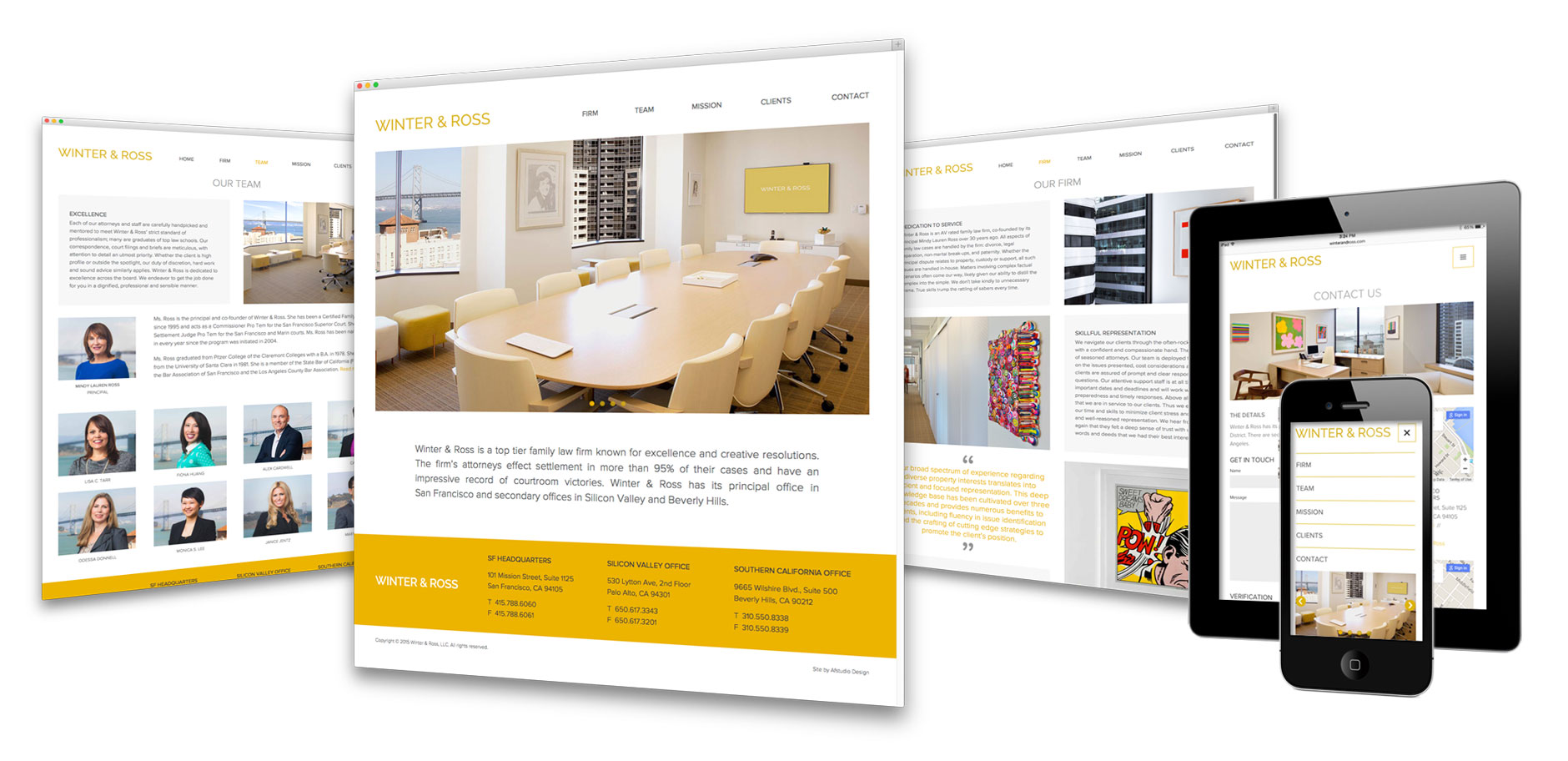 Our client's story:
Afstudio designed a new, modern website for Winter & Ross — a top-notch law firm with offices in San Francisco, Silicon Valley, and Southern California. After presenting desktop designs to the client, Afstudio sought Scott Design's expertise in building a site to be both desktop- and mobile-friendly. The team decided that the site should be developed in WordPress to provide an easy-to-use content management system (CMS) for the client.
The Scott Design web developers used a responsive design approach to code the site, with content optimized for the user's screen size. For example, at smart phone size, the photos adjust to the smaller, more vertical space. Our team worked directly with Afstudio and Winter & Ross to ensure that the images provided the same visual impact at all the different viewing screen sizes.
User-friendly features of the website include pop-up attorney bios with downloadable V-cards, simple navigation for mobile and desktop, always-present contact information in the footer, and a simple registration form on the Contact page.
Before pushing the site live, the Scott Design team posted the site on a password-protected server, and made copy edits and photo modifications during final rounds of testing with representatives from Afstudio and Winter & Ross. As part of our regular development process, we tested on key browsers (Chrome, Safari, Firefox, IE, etc.) and on different types of devices (desktop, tablet, phablet, and smart phone).
The new mobile-friendly site helps Winter & Ross more effectively communicate its positioning to prospective clients and allows those clients to quickly engage with the site and easily contact the law firm — regardless of the device they are using.
View the Winter & Ross website ›
Winner:

Best in Class Interactive Media Award — Legal Website