Whether you're working on the corporate website, email programs, social media, advertising, collateral, or other marketing activities, there are some things that are typically better done in-house, and some that are better done by an outside agency.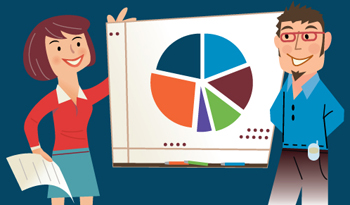 Reasons to use an agency might include any or all of the following: Your staff doesn't have enough time; you don't have the right expertise to implement all the pieces of your marketing strategy; you want to get a new perspective or tap a unique thought process attainable only by working with a creative team outside of your company.
Also, partnering with an agency for at least a portion of your marketing can lead to cost savings and improved quality in your marketing. Finally, you should especially look to an outside agency for development of creative work, since that's its expertise.
But are there marketing activities that you shouldn't leave to an outside agency? There are no set rules about what you should do in-house and what should go to an outside agency—that depends on your own resources and budgets—but below are some suggestions.
Keep decision-making, legal procedures, and marketing analysis in-house. Here's an expanded list of activities best kept in-house:
Draft content development
Design direction based on branding guidelines
High-level strategy and goal-setting
Ongoing updates to websites and profiles
Real-time reaction to important issues
Brand monitoring
Analysis of reports
Legal oversight
Have an agency do creative work, copywriting, SEO, and setup of systems. Here are activities well-suited to an outside agency:
Visual design
Information architecture
Development of web templates, social network profiles
Creation and optimization of visual assets for integrating campaigns across media
Content marketing strategy
Programming (databases, landing pages with registration forms, apps)
Copywriting for high-level messaging and ad copy
Copyediting and proofreading
SEO
Implementation of analytics, measurement, and real-time monitoring systems
Creation of guidelines for look, style, tone of all communications
Maintain close communication with the outside agency
Good communication is key to successfully working with an agency. You should keep the agency up-to-date on new products, initiatives, and goals through ongoing communication. You should make sure the agency understands your company, industry, products, services, customers, and competitors. The agency must understand your marketing goals and be able to create assets that further those goals.
And keep the agency informed about what you are doing in-house, so it can coordinate with you per schedule, and so both firms can keep their people on the same page concerning your marketing campaigns, helping you develop marketing strategies to take advantage of new opportunities that arise.
The outside agency should keep you apprised of new technology and marketing and design trends. The agency should make sure you are aware of all deadlines and the status of ongoing projects. And the agency should update all branding and style guidelines as needed, including considerations for all new media.
With a good distribution of responsibilities and strong communication, the partnership with the outside agency can help you create strong and successful marketing programs.