Making sure your marketing dollars are spent in the right place is more important than ever if you want to attract local customers.
Where is the best place to advertise your local business?
When looking for local business information today, the majority of consumers start online. Printed directory use, such as phone books, is declining, but is still a strong secondary source. Mobile search and social networking sites are even smaller than yellow pages, but are growing as secondary sources of local business information. Making sure your marketing dollars are spent in the right place is more important than ever.
Online marketing has surpassed print marketing
70% of survey respondents listed "online" as their primary starting place when looking for local business information in a recent local search survey by comScore and 15 miles. According to a recent survey of small businesses conducted by Vistaprint, spending on direct marketing and social media is increasing while spending in more traditional channels such as yellow pages, TV, radio, and newspapers is declining.
Printed phone book use is declining
Internet directories have led to a dramatic decrease in the number of business owners and consumers who use phone books. Last month, Yelp presented a survey to gauge how business owners feel about yellow page phone books in the digital age. Only 24% of the 3,500+ respondents said "Yes" to the question, "Are yellow page phone books still relevant?" Very few business owners believe customers find them using a yellow page phone book.
Estimated percentage of customers who find me using a yellow page phone book: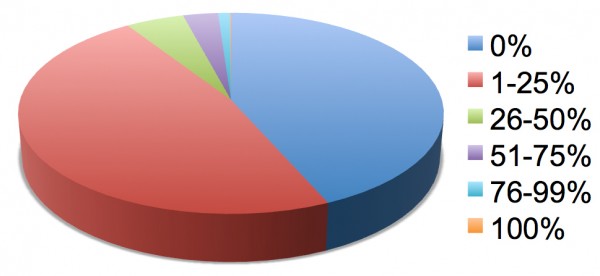 Online directories can be very effective
As we continue to move away from printed phone books, online and mobile directories continue to grow as the customer's choice for local business information. The big yellow pages companies have embraced this trend, with online directories optimized for search as part of their offerings. Joining a niche, association, or local directory is still a good approach for gaining traffic, as these directories target a specific audience and bring targeted traffic to your site along with a boost in page rank, especially if the site is highly rated.
Know your audience first
The results of the comScore survey differ widely based on the age of respondents, so it also pays to know your audience before selecting one marketing tactic over another.
Age: 18 to 34

Age: 35 to 54

Age: 55 and older

"I just placed my first ever yellow page ad with Yellowbook last week," said Adele Talmadge of Talmadge Construction in Aptos, CA. "We are reaching out for the aging market who may need accessibility remodeling and I figured they might be more likely to go to the yellow pages than on line looking for a remodeler. Savvy business owners can still target specific markets through print media."
Fine tuning your strategy
Only 14% of people who start at a search engine when looking for local businesses don't also look for info elsewhere, too, so you need to make sure there is information about your company wherever your customers might look for you. They may search for your website online, look in the phone book, or search for your in an online directory. A great way to fine tune your strategy is to ask customers how they found you, and to test how effective each strategy is for your business by varying your tactics.
Your optimal marketing mix might be a combination of both print and online advertising and marketing.