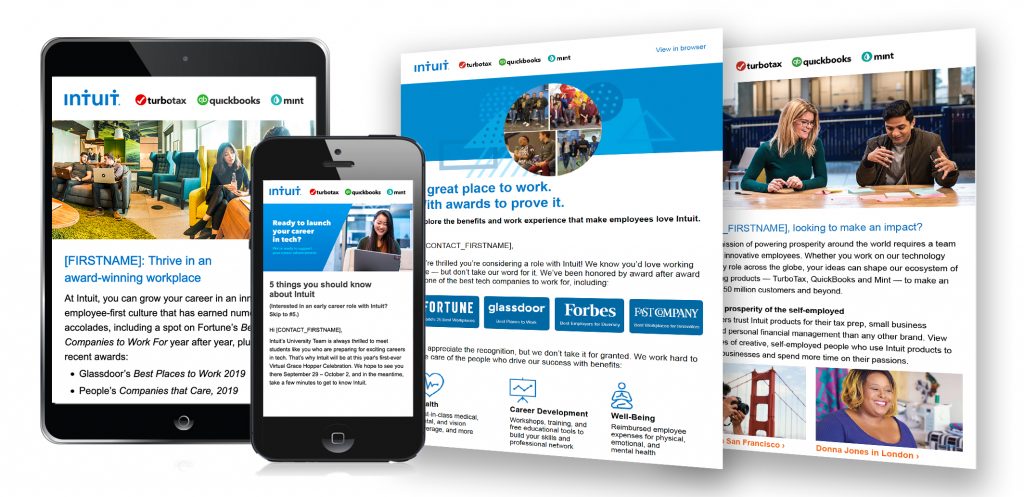 Our client's story
Intuit, the makers of TurboTax, QuickBooks and Mint, are in competition with other technology leaders to hire top-notch new talent for career roles in software engineering, data science, marketing, design, UI, and other areas. Thus, Intuit sends friendly, persuasive communications with new talent — many of them recent college graduates — in different types of email campaigns. Some campaigns focus on life and culture at Intuit; others on the specific benefits and programs that make Intuit a great place to work; and some involve efforts to hire a more diverse workforce.

Scott Design works closely with Intuit representatives to understand the target audiences and objectives for a specific campaign, which usually involves a series of 3 to 5 emails. Adhering to Intuit branding, creative, and email guidelines, Scott Design presents email template concepts along with ideas for the copy and subject lines. Scott Design's creative ideas help Intuit to communicate in a fresh, innovative fashion so the new talent understands the unique benefits of launching a career at Intuit. 

Scott Design also handles the coding and testing of the final email files — making sure the  emails look great and function perfectly in all email apps and at all viewing screen sizes. Our creativity and email expertise helps Intuit succeed in their ongoing recruitment efforts.