Web and logo design for immigration law firm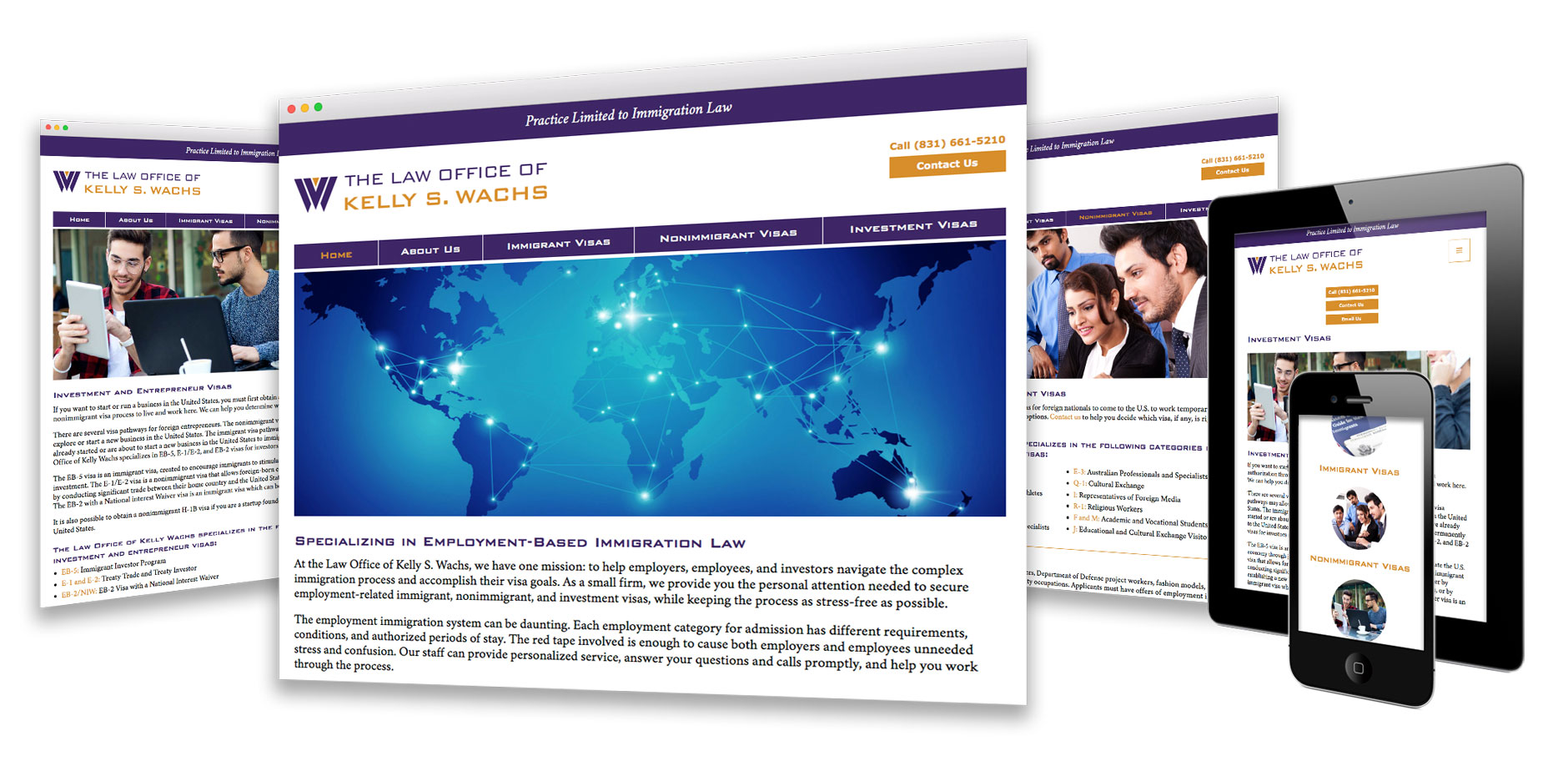 Our client's story:
The Law Office of Kelly S. Wachs, a firm that specializes in immigration law, needed a logo and a modern, mobile-optimized site that effectively communicates its services to companies, employees, and investors searching for legal assistance. Besides needing a visually appealing, SEO-ready site, the firm needed the content on the site to be well organized and user-friendly. Attorneys wanted site visitors to be able to quickly and easily understand exactly which types of specialized, high-quality legal expertise the firm provides.
Scott Design designed a new logo and created a new web design that more effectively communicates what the law firm does, how it's different, and information about the specific legal services it provides. An international theme helps site visitors realize they are in the right place when they arrive at the immigration law firm's site, and the reorganized site navigation helps direct them to easily engage with the site content.
Scott Design edited the site's copy to be more easily understood by site visitors, many of whom are unfamiliar with immigration law terminology, and who come from different countries around the world. All the target audiences, including employers, employees, and investors, can now get a clearer picture of the requirements and steps involved in the immigration process and a better understanding of how The Law Office of Kelly S. Wachs can help them obtain different types of immigration visas.
The site is built in WordPress to allow the law firm's staff to make content updates. And, the entire site was designed, written, and coded with search engine optimization (SEO) in mind, with Scott Design completing its comprehensive list of SEO tasks to help improve search results.
The new website follows a responsive design approach, so content is fully optimized regardless of viewing screen size, including desktop, tablet, and smart phone. Mobile optimization earned the The Law Office of Kelly Wachs' site the much-coveted "Mobile-ready" designation on Google, which will assist with rankings for searches conducted on mobile devices.
View the Law Office of Kelly S. Wachs website ›