Product website and videos for MSD Animal Health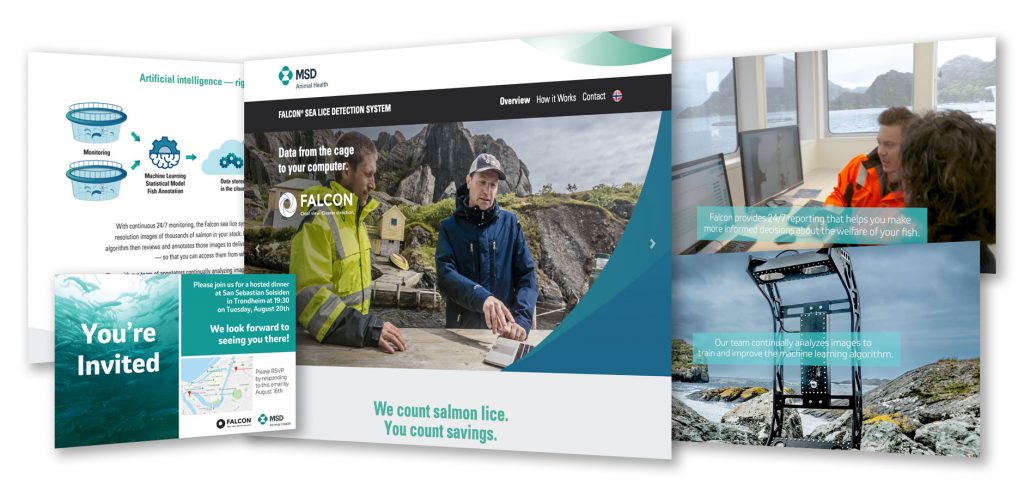 Our client's story
MSD Animal Health, a division of Merck, needed marketing communications to support the launch of a new product — the Falcon sea lice camera, which automatically counts, classifies and reports salmon lice numbers to support fish farmers.
Working with The HDI Group and leveraging sub-branding guidelines, Scott Design designed, produced, and tested a two-language microsite, videos, diagrams, collateral, and event invitations. The website and videos were designed to educate site visitors in a clear and compelling style and lead them to contact MSD Animal Health to learn more about the Falcon sea lice camera.
The website takes advantage of the dramatic photos from photo shoots in Norway, above– and below-water video clips showing the product in action. Users can easily choose the language of choice (English or Norwegian). Scott Design created diagrams that help users quickly understand how the Falcon system works and provides benefits to fish farmers.
Scott Design created Overview and How it Works videos that tell a story through use of sequenced video clips, captions, and synched-up background music. Scott Design also designed and produced a supporting sales sheet and event invitations.