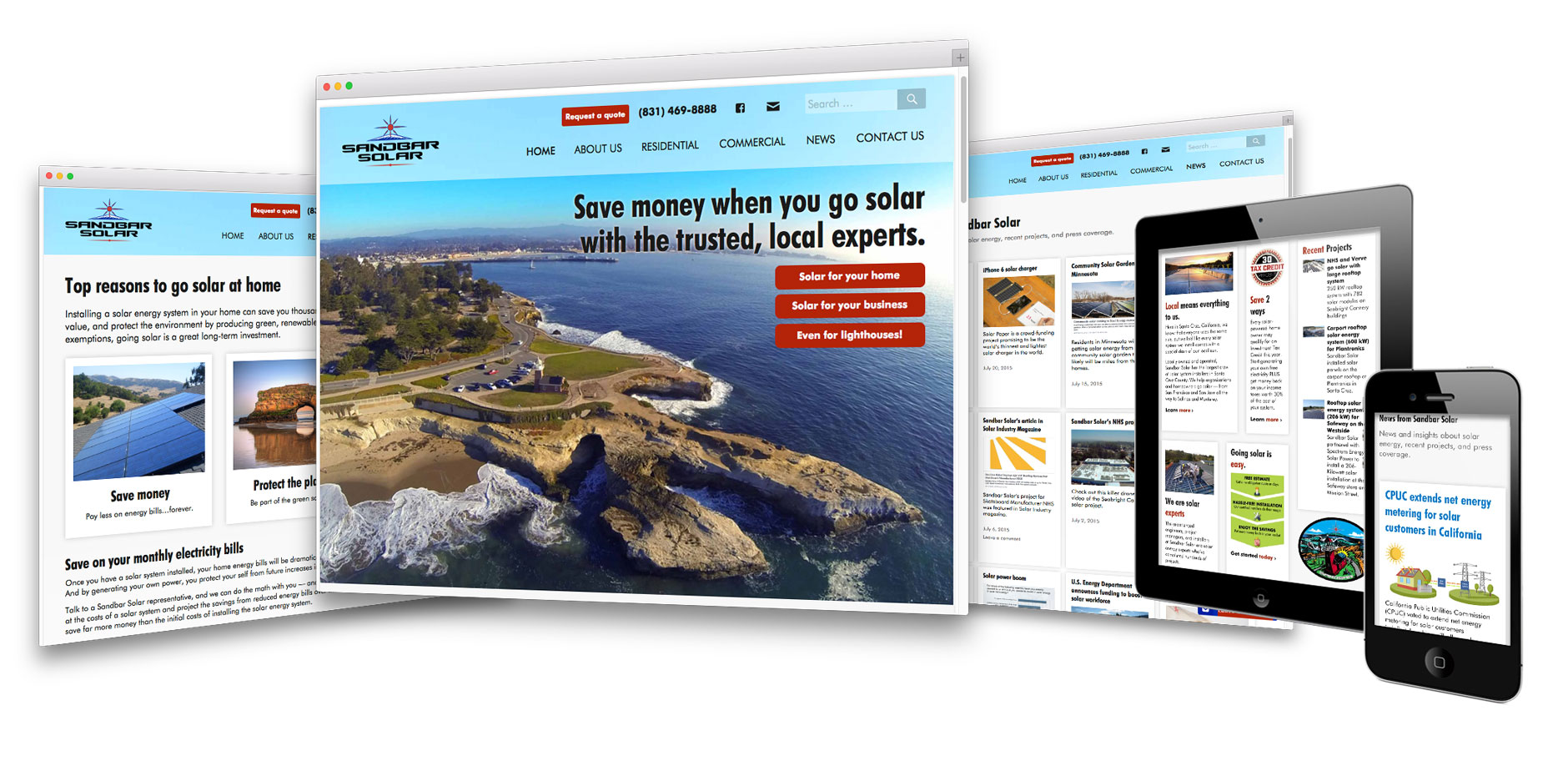 Our client's story:
Sandbar Solar sought a modern, SEO-ready, mobile-optimized website that effectively communicates its message and generates leads. The site needed to educate homeowners and businesses about the need to go solar with a local team of trusted experts.
Taking Sandbar Solar's marketing objectives, site requirements, requested content, competitors, new target audiences, and common objections to sales into consideration, Scott Design wrote, designed, and developed a website that serves as an effective marketing tool for the sales team. The design enables the presentation of a wealth of information to the site visitor in small, manageable pieces. Deeper dives into the site provide more information on Sandbar Solar's services, products, and commitment to the local community.
A blog provides an easy way for the Sandbar marketing team to add new case studies, news articles, and share local events that Sandbar is sponsoring. Since Sandbar wanted to keep future site maintenance in-house, Scott Design recommended using WordPress as the content management system to run the site. Scott Design also set up chat functionality on the site to allow sales reps to immediately answer questions from site visitors.
During development, Scott Design did both site-wide technical SEO and on-page content SEO to help improve Sandbar Solar's search engine results. And, the site was built to be mobile-friendly from the ground up, using a responsive mobile-first design approach. Upon launch, the site earned Google's Mobile-Friendly status and has already begun to move up in search results. 

View the Sandbar Solar website ›
Scott Design knocked it out of the park! Their creativity and expertise was key to the success of our new mobile-optimized website. The friendly, professional team responded quickly to every functionality request. And the SEO-friendly copy that they wrote was outstanding — we hardly had any edits. They trained us on how to update the site ourselves, and have continued to provide help since the site launched.

James Drees, Marketing Director
Sandbar Solar