3 steps to successful design
When designing a website or online campaign, creativity is important. But for your project to be truly successful, you must create something that's targeted to your audience.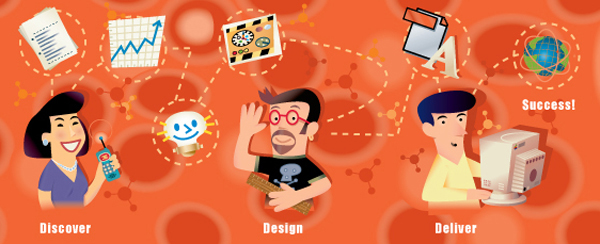 Before you jump into designing a new marketing piece, you must fully understand your market space, your goals, and your competitive concerns. Using a three-phase approach, you can develop purposeful strategies, design on-target solutions, and get the results you seek.  This standardized approach to problem-solving provides a framework for a smoother process, better support for your brand, and the ability to routinely and systematically produce great work. The process can be driven by the client, but having an outsider—such as a design firm or web agency—oversee the process allows you to develop a better-balanced plan.
Phase 1: Discover
First, work with your team to discuss your goals, identify your audiences, analyze your brand, assess your competition, and refine your market position. Learn about the customers you want to attract, which competitors keep you up at night, and what makes your company unique. Get to know your business inside and out by including stakeholders from throughout your organization.
At the end of your discussions, produce a strategic brief that defines the scope of the campaign, including the results of your findings, definition of roles, a schedule of milestones, and content recommendations. This strategic brief guides your team or agency as they develop marketing pieces. It is the measurement by which you should judge any creative solutions your team develops.
Phase 2: Design
Once you have defined your marketing challenges and objectives, begin the exploration of visual concepts and designs with a personality and style that support your brand. Designers and project managers should collaborate with your team to develop a design solution that meets your unique needs.
With the strategic brief to guide the process, make sure the designs are on-target in terms of your audiences and your marketing goals. You can then discuss the choices with your team, determine which will meet your objectives with the most impact, and then refine the creative work. When this phase of the design process is complete, you should have the creative framework and assets you need to implement your design solution.
Phase 3: Deliver
In the final phase of the process, you should develop the tactical marketing pieces to launch your design across all appropriate media. The visual concept may be applied to your website, email, web banners, collateral, direct mail, advertising, and more. Whether an online marketing firm develops your marketing pieces or you create everything in-house, you should create templates for each type of marketing piece—and make sure you have someone to turn to when technical and creative issues come up.
Be sure to include tools for tracking results and providing feedback on your marketing. And plan for refinement and maintenance of the all of the pieces to ensure that your integrated campaign is a success.
Results: Success
Your marketing team's job is to create solutions that produce optimal results. Whether you measure your success through visits to your website, leads generated from your email campaign, direct mail response, or click-through rate from your banner ads, a proven process helps to ensure you get the results you seek.