Celebrity styling for your brand
You are responsible for "the celebrity styling" of your company—whether it's managed by one person or many.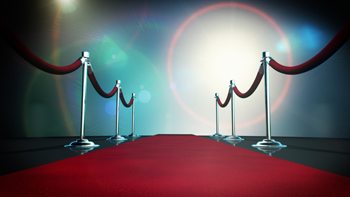 In Hollywood, having a good stylist is as important as having a good publicist. Many celebrities rely on their stylists not just for style advice, but also to create an entire public image for them. Stars need help creating a positive, cohesive look in interviews, at special events, and whenever they're out in public. As soon as they leave the house each morning, celebrities project an image to the world.
You are responsible for "the celebrity styling" of your company—whether it's managed by one person or many. You should make sure your company has a strong, cohesive brand no matter where your company appears: your website, emails, landing pages, social media sites, online communities, trade show presentations, news releases, sales presentations, and corporate collateral. Every piece of your marketing must be coordinated to make sure you present your company's best face to the world.
As a celebrity doesn't leave the house without having that perfect look, all of your company's marketing pieces should be on brand, presenting the same positive face to the world. Don't allow rogue producers of off-brand materials. For example, you may have designers at an agency who want to show off their design styles, without regard for your brand. Just like a fashion designer who's eager to get his or her latest styles on the runway, a designer might not say, "This look just might not be right for you." Similarly, different departments in your company may create pieces that reflect someone's personal style more than that of the company.
Celebrity stylists assemble a wardrobe of clothing and accessories for each star to wear on all occasions. That way, when stars have to get dressed without their stylists, they have everything they need to put together a great-looking outfit. You can help everyone—marketing team members, sales reps, design firms, and resellers in the channel—create marketing pieces that are great-looking while staying on brand by providing the following:
A comprehensive set of style guidelines
A library of imagery and approved copy assets available
Ongoing, hands-on feedback on all marketing communications pieces created for your company.
Make sure everyone who creates marketing materials knows the email address of the brand director, so if they have any style questions, they know whom to contact.
With defined style guidelines and a designated brand director, you can assure that your company will look great wherever it appears in public.