The beginning of a new year is a great time to develop your marketing strategies for the upcoming months.
In a challenging economic environment, it's important that those marketing strategies and tactics make the most of every dollar you spend. Let's take a look at where you'll get the most bang for your buck this year.
B2B Marketing Tactic Increases/Decreases
According to a Fusion b2b survey of business-to-business (B2B) marketers, 66 percent of marketers are planning to increase marketing activities and budgets this year, with 5.5 percent planning to decrease marketing activities or budgets and 28.5 percent planning to maintain marketing activities and budgets.
Most respondents plan to increase Internet, social media, PR, and promotions, while 70 percent of respondents plan to decrease advertising and 65 percent plan to reduce trade show expenditures. For more information, see the Business-to-Business Marketing 2011 Outlook Survey Results.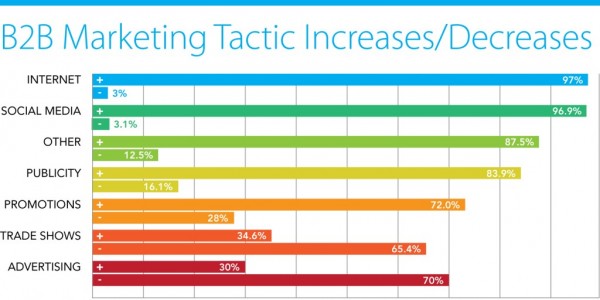 The effectiveness of website design, management, and optimization tactics
Since a website is the main hub of marketing and conversion for companies, marketers should make their websites as effective as possible. Marketing Sherpa interviewed nearly 1,000 B2B marketers to find out which website optimization tactics were the most effective. Your content marketing strategy should include a variety of online content. Marketers put website landing pages, website design, website SEO, and microsites at the top of the list for most effective ways to optimize their Internet presence. Adding video, social media, live chat, click-to-call, and personalization were considered less effective. You can read more in Best website design, management and optimization tactics for 2011.
A well-implemented marketing strategy includes ways to make it easier for customers to find your solutions online and be converted into customers after consuming your online content. Although there are countless pressures during difficult economic times, marketers who keep their eye on their priorities will emerge even stronger from the downturn than their competition.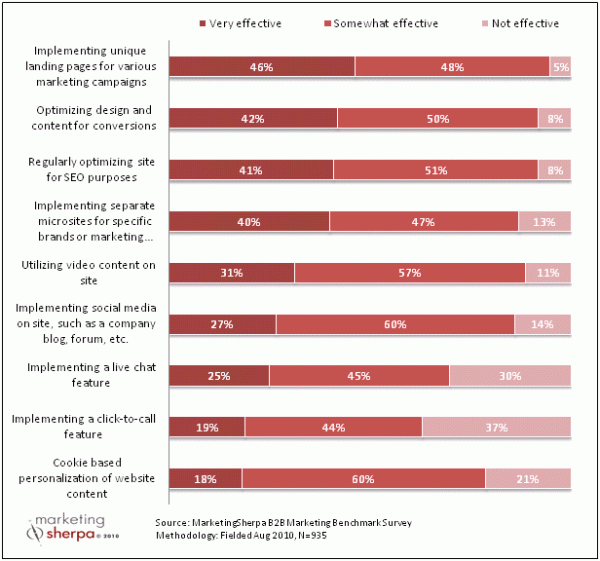 It is even more important than ever that your marketing strategy produces both immediate and long-lasting positive results. The key to successful development and implementation of a marketing strategy is to focus on a set of priorities and then ensure that all your marketing tactics directly support your priorities.