The best ways to make sure no one gets lost on their way to find you online
You know that you have some real treasures to offer your customers: your superb services, your excellent products, your unequaled solutions. But, your website is like a far-flung island in the vast ocean of the internet. How do you make sure that someone looking for your treasure actually finds it? How do you create content on your website that is easily found by search engines? How do you reach across the vastness with outbound messages to draw visitors to your website island?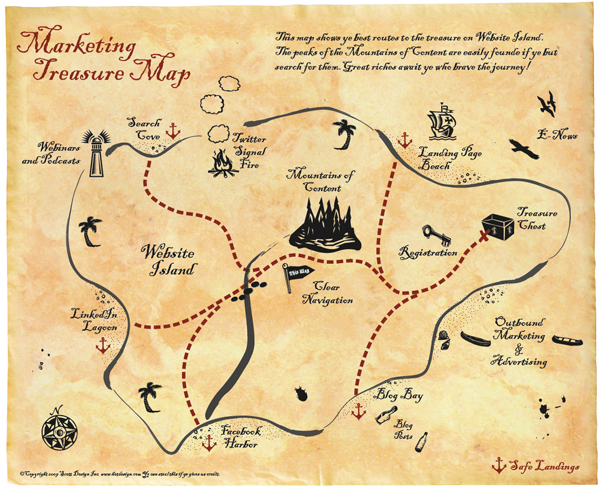 Here are the best ways to make sure no one gets lost on their way to find you:

1. Create mountains of valuable, compelling content on your site. Include company and product specs, contact information, details about your team, and white papers or case studies that target visitors at any stage of the buying process. Make these mountains of content visible from faraway search engines, by doing a thorough search engine optimization, selecting optimal keywords, and building links back to your site.

2. Lead customers to you by sending out messages through your blog, keep the Twitter, Facebook, Google+, and Pinterest fires burning, and broadcast your webinars and podcasts. The content you share on social media helps to lead visitors from your social media outposts back to your website, where they can get more information about you.

3. Reach out to customers through e-mail marketing, sending direct mail promotions, print and online advertising, telemarketing, and attending events. Make sure you do regular outreach through all channels to keep your company top-of-mind.

4. Create multiple places to land through optimized landing pages, LinkedIn, Facebook, Twitter, Pinterest, and Google+ pages, a blog, and search-engine-optimized pages throughout your site. The more ways you create for visitors to find you, the more likely they are to land on your site and stick around.

5. Clearly mark the path to the treasure using clear navigation and clean design. Make sure you have an organized site architecture with 5-6 main sections and that all your content is organized logically in those sections. Create a clear route through your site with simple navigation and hierarchy.

6. Give the keys to customers through an online form, giving them access to the riches you offer. Registering for your content can be a great way to collect emails and keep in touch with your visitors after they're gone through emails. Don't feel like you need to have a registration form in order to share your content, but do make it easy to join your email list.
Other Resources:
• Animated Marketing Treasure Map:
• Feel free to download a PDF of the Marketing Treasure Map. Just be sure to give us credit if you use it elsewhere.