Use analytics to improve your website, SEO, and e-mails
When building your online presence, you should make sure you set up analytics tools at the outset to see what works, find opportunities you're missing, and fine-tune your website, content marketing, SEO, and e-mails.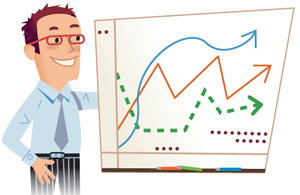 Setting up analytics on your website can be as easy as adding a free Google Analytics code to the pages of your website. And most e-mail service providers generate data and reports for each mailing that you send. The key is to get these analytics programs in place as early as you can so that you can use the data they generate to continually improve your online communications.
Fine-tune your website and optimize your content
Google Analytics is a free suite of analysis tools that's widely used to capture and display information about how visitors are using your site. Using analytics, you can find out which content is appealing to your audience, pull them into your site, and get them to click.
From the Google Analytics dashboard, you can get a great overview of how your site is performing over time. Detailed reports let you drill down for more detailed information about every aspect of your site's performance, including which pages and content is visited most. And you can have Google Analytics e-mail you reports on a regular basis so you don't forget.
Google Analytics will give you as much information as you want, or you can stick to the high-level analytics. To see more details on any report, just click the "view full report" link.
Reports that you should monitor regularly are the following:
Dashboard – See whether the number of visits is going up or down, see a map of where your visitors come from, and see which pages are most popular.
Visitors overview – See how many visitors you have and how much time they're spending on your site, and see which browsers and connection speeds your visitors have to make sure your site is optimized for all your audiences.
Traffic sources overview – See whether your visitors arrived at your site from searches, directly, or from links on other websites.
Keywords – See which words visitors used on search engines to find your site, plus what they did once they landed on your site.
Top content –  See which pages get the most traffic on your site. Optimize that content so that it is as complete and effective as possible.
Depending on your business, you may want to run additional Google Analytics reports. For example, you might want to know what country your visitors come from or what time they are visiting your site. Perhaps you'd want a visual representation of exactly where users are clicking on your web pages.
Improve your e-mail campaigns
After you send an e-mail blast, you should plan on analyzing the results using the analytics that most e-mail services provide to learn how your audience is responding to the communications you've sent.  You can see how many people opened your e-mail, and who they are.  You also can check which links generate the most interest, and which campaigns are most effective.
For each e-mail campaign, you should analyze the following:
How many e-mails were sent, received, and bounced due to bad e-mail addresses
How many people opened the e-mail, clicked on a link, forwarded your e-mail, and opted out or signed up
Which links and graphics received clicks
A comparison of this campaign and past campaigns to identify differences and the reasons for them
Taking a close look at e-mail analytics lets you spot trends that help you refine and improve your e-mail marketing plans. If you get too many unsubscribes, you might be sending your e-mails too often. If none of your graphics are getting clicked, many of your subscribers might have their images turned off and you should design your e-mails to rely less on images and more on text links. If your response rate for a particular e-mail was particularly good, you should see how it differs from less successful campaigns.
Test and refine
One of the great things about having a robust analytics solution in place is that you can test the results you get by updating your content or making multiple versions of your content. For example, you could take a look at which words are leading visitors to your site and create more content that concerns those keywords, and see whether that improves site traffic. You can create multiple versions of a single e-mail campaign and see which gets the most click-throughs. Or reorganize your site to remove pages that are rarely visited, or create stronger links to those pages.
The key is to take a look at analytics at least once a month, plus after every major website change or e-mail campaign.