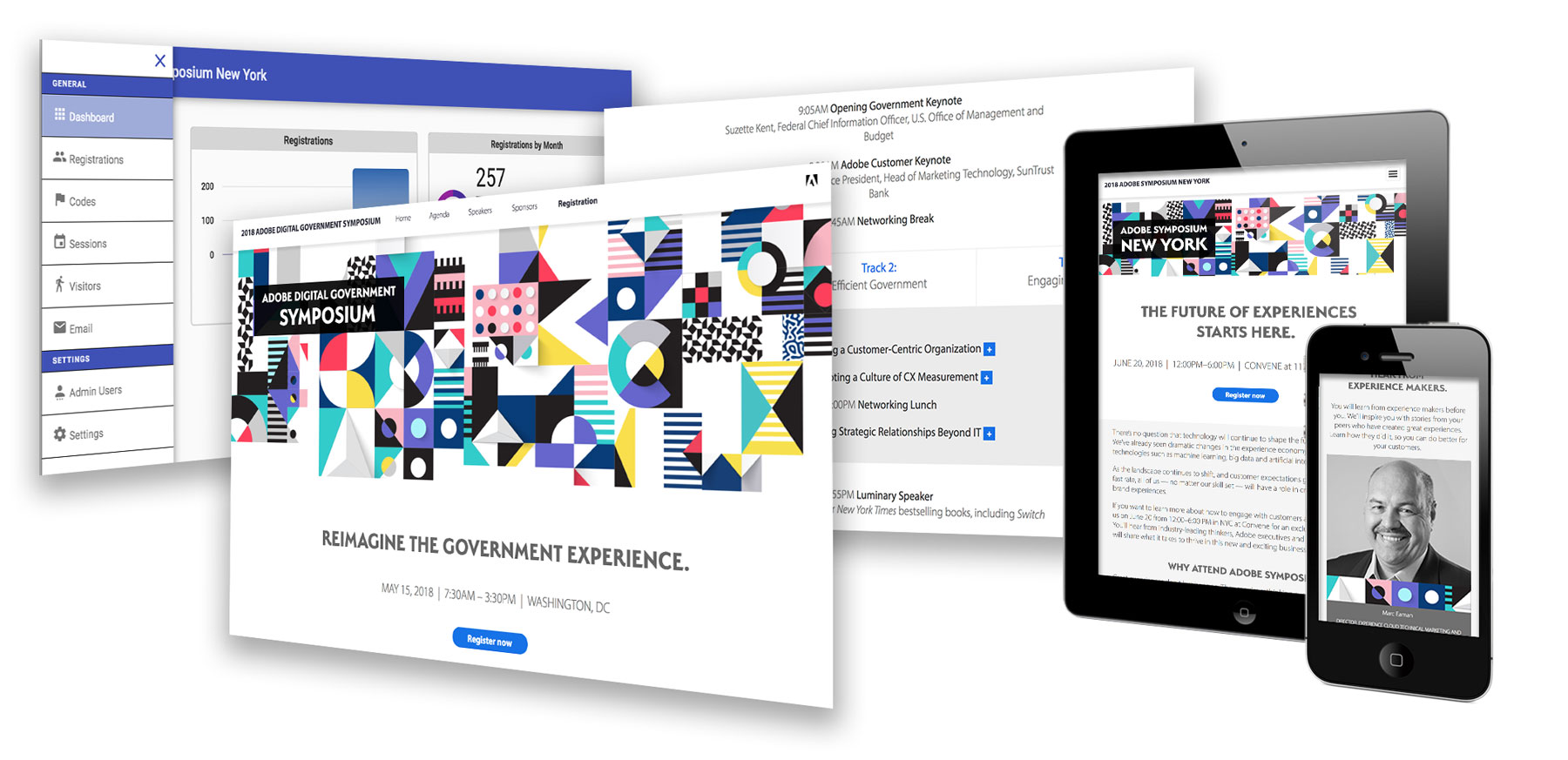 Our client's story:
Adobe holds invitation-only, one-day symposia where participants learn from industry-leading thinkers. For each of these events, Adobe needs an on-brand, mobile-optimized microsite that provides information about the venue, speakers, and sessions along with secure, easy-to-use registration.
Leveraging creative guidelines, Scott Design developed and hosted two different microsites and robust registration systems for the Adobe Digital Government Symposium (in Washington DC) and Adobe Symposium New York. Scott Design also designed, coded, and tested invitation, confirmation, and reminder emails.
Besides designing, coding, testing, hosting, and maintaining the front-end microsite for each event, Scott Design also developed a back-end admin system that allowed designated Adobe representatives to easily do the following:
Log in to view a dashboard that gives a quick view of registrations.
Download an Excel file of registrants.
View and edit individual registrant information.
Create unique URLs with tracking codes for different groups of invitees.
View site traffic of visitors from different invited groups.
Establish and modify the maximum capacity for each session.
For the microsite, Scott Design worked with Adobe IT security representatives to ensure that the site meets strict security requirements. The registration system set up by Scott Design included the following:
Automatic confirmation email — with a customized agenda — sent to a registrant once they submit information.
Three different reminder emails sent out from the system.
Thank You for Attending and Sorry We Missed You emails sent out from the system.
A waitlist system for registrants who did not meet the desired criteria for these exclusive events.
As part of hosting and maintenance, Scott Design continually updated the website as new speakers were approved and session descriptions updated. Scott Design's services included design, copyediting, coding, testing, hosting, maintenance, and troubleshooting.