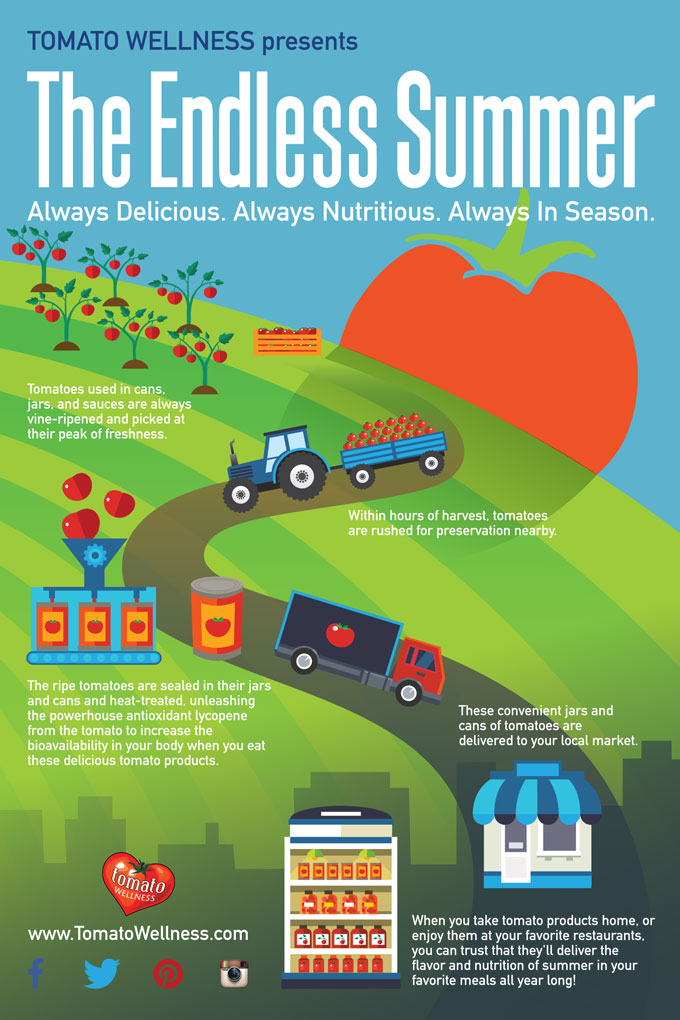 Our client's story:
The Tomato Wellness Council asked Scott Design to create a way to share scientific research that demonstrates the health and taste benefits of canned and bottled tomatoes. The key objective was to change the perception of processed tomatoes, highlighting health benefits and the freshly picked flavor that is captured when tomatoes are canned the same day they are harvested.
The Council needed a fun, easy-to-understand infographic that explains this health benefit to consumers, educating them on the process that ensures canned and bottled tomatoes provide top-notch flavor and nutrition. The goal was to be accurate and informative about the process, showing that it is simple and doesn't involve adding unhealthy ingredients.
Using an "Endless Summer" theme, licensed from the original filmmakers, Scott Design created a colorful infographic that displays the step-by-step process of how tomatoes are harvested, immediately canned, and delivered to retail stores and restaurants, for maximum flavor and healthful nutrition.
The well-received infographic is being used throughout the industry — online, at tradeshows, and via social media — to change consumer perceptions about tomato products.