Is your website scaring visitors away?
In this infographic, we take a look at the six main reasons why visitors leave a website, and we offer solutions on how you can fix your site to be more visitor-friendly.
The main factors that make someone leave your website are bad design, not having a mobile-friendly site, slow page load times, too many ads, outdated content, and required registration forms. All of these create reasons for users to abandon your website. To make sure visitors hang around for longer, consider fixing these six scary website issues.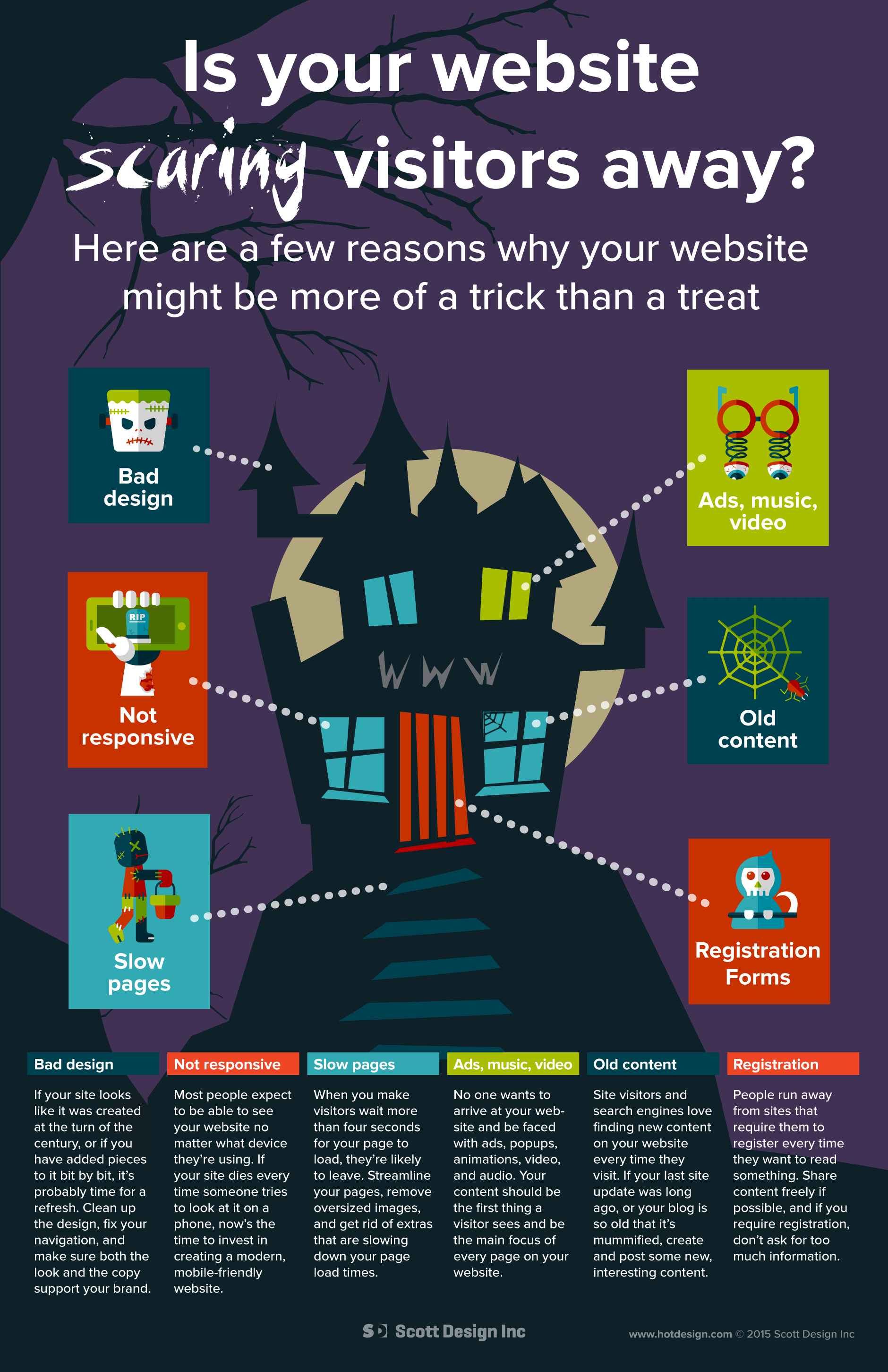 Here are a few reasons your website might be more of a trick than a treat:
Bad design: If your site looks like it was created at the turn of the century, or if you have added pieces to it bit by bit, it's probably time for a refresh. Clean up the design, fix your navigation, and make sure both the look and the copy support your brand.
Not responsive: Most people expect to be able to see your website no matter what device they're using. If your site dies every time someone tries to look at it on a phone, now's the time to invest in creating a modern, mobile-friendly website.
Slow pages: When you make visitors wait more than four seconds for your page to load, they're likely to leave. Streamline your pages, remove oversized images, and get rid of extras that are slowing down your page load times.
Ads, music, video: No one wants to arrive at your website and be faced with ads, popups, animations, video, and audio. Your content should be the first thing a visitor sees and be the main focus of every page on your website.
Old content: Site visitors and search engines love finding new content on your website every time they visit. If your last site update was long ago, or your blog is so old that it's mummified, create and post some new, interesting content.
Registration Forms: People run away from sites that require them to register every time they want to read something. Share content freely if possible, and if you require registration, don't ask for too much information.
Got any more to add to our list? Let us know in the comments!
Download the haunted website infographic (PDF 900K).