Make the effort to optimize your landing pages, remembering that the user experience there is as important as the initial email. A dedicated, on-brand responsive landing page with a simple registration form can make all the difference.
When planning and executing a lead-generation campaign, lots of creative thought and effort is put into the design and development of the email and banner ads. Often, however, that same level of effort is not evident when it comes to optimization of the landing page. Your initial email should indeed be attention-grabbing and get visitors to click through to the landing page, but an online campaign's ultimate success often depends on the landing page, where users make their final decisions.
There are several valid reasons why users abandon registration forms on landing pages. They may not be able to attend a webinar on the date you are offering it. They may not need your product or services. Or, they may not be far enough along in the sales cycle and are still doing research. The important thing is to make sure that if qualified prospects reach your landing page, they can easily complete registration. They should be presented with an excellent landing page experience that includes well-developed content and a clear call to action.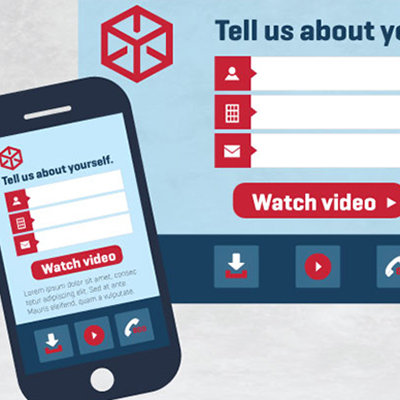 Here are suggestions for optimizing your B2B landing page to convert prospects to leads.
Make sure your email, banner ads, and landing page cover the basics

The landing page is a single page designed to get users to register for something such as downloading a white paper, viewing a webinar, watching a video, or contacting you. The email, online ads, and landing page should have the following:

Concise, targeted copy that clearly communicates the benefits
A single, prominent call to action
Responsive design for optimal mobile experience
Consistent use of your branding and products
Messaging that is compelling and accurate
HTML coding to ensure functionality on different browsers and devices

Create a separate, dedicated landing page

First and foremost, each online campaign should have a unique landing page. Don't send email recipients or those who click a banner ad to your home page or a generic registration page where there are multiple links, additional content, and the full site navigation. If you want your audience to register for a specific webinar, send them to a page where webinar registration is the one and only focus. Sure, you can provide a link to other pages on your website, but make it a secondary, less prominent call-to-action. Or, even better, make a link to your site only appear on the "Thank You for Registering" page, which the user will see only after registering. And avoid including social media icons on your landing page: You want to keep them on the page, without any distractions.

Build trust by adhering to brand and creative guidelines

The look and feel of your landing page should match your website and other marketing materials. Users arriving on the landing page should see your logo and other brand elements to confirm that the content is from your organization. If users don't see your brand, they may abandon the page quickly, especially if they feel it's a third party trying to get user information, or even worse, a phishing site.

Use consistent design elements across email, banner ads, and landing pages

Users who click through from an email or ad to your landing page should be reassured instantly that they are in the right place. Besides seeing your logo and supporting brand elements, they should see the same design, color, messaging, and visuals used in the email or web banner. The landing page should be seen as a continuation of the user's experience in a seamless presentation of information, making the user feel more comfortable and more willing to register once they arrive on the landing page.

Include strong reasons to register

Users may need more convincing of the content you are offering before they register. If you have a segmented list, make sure the user sees reasons to register targeted to their needs. Present ways the content will help users solve a specific challenge they face. Feel free to include a healthy amount of content such as bios of presenters or authors, with a focus on their expertise. Be sure to include an 800 phone number where prospects can get more information.

Make preview content available

Let prospects view some of the content without registering: Provide the executive summary of your white paper, a short clip of a recorded version of your webinar, or an image of the title page of the white paper or screen shot of the video. Give them a taste of what they will read or see. Think of it as a trailer for your content.

Make registration fast and simple

Your sales reps may want you to collect as much information as possible from registrants, but you risk having users abandon the form if you include too many questions. Keep your registration to as few fields as possible: first and last name, email address, and name of organization should suffice. Once you have that information, you can follow up later to ask for more to see whether there's truly interest. Including a lot of questions may not deliver a qualified lead; it may just test the prospect's patience and may not provide information that you really need at this point. Try something friendly and descriptive for the submit button, such as "Download white paper" or "Watch video." Finally, once the user registers, include an immediate thank you message to confirm registration.

Optimize for desktop and mobile

Follow a responsive design strategy when designing and coding the landing page. Make it easy as possible for mobile users to view, fill out, and submit a simple registration form. Keep the registration form prominently positioned at the top of the page; don't make users scroll to find the form. Allow easy scrolling or swiping to allows users to read supporting content and/or preview material. Create a bright color button at the end of your form: After filling in contact info on a smartphone, it should be one easy tap.

Use a unique domain name for your landing page

Domain names are cheap and easy to purchase. Of course, your landing page could be placed in a sub-folder of your existing website, but you can make your campaign stand out with up with a completely new, independent domain name that ties in directly to the content you are offering.

Add analytics and do testing

Track how many users arrive on the page and what percentage of them register. If there's a preview video or sample PDF, count how many users viewed those; and out of those, how many registered. If you have the resources, do some testing with slightly different strategies for your landing page: different supporting content; shorter vs. longer registration forms; preview video or not; etc. Track calls to the 800 number reached from the landing page, as well. Testing will give you important data for future campaigns.
Landing pages should be simple, on brand, and optimized.
If you make the effort to optimize your landing pages and remember that the user experience there is as important as the initial email or banner ad, then your on-brand responsive landing page with a simple registration form can make all the difference in whether your campaign succeeds.